Starter Kit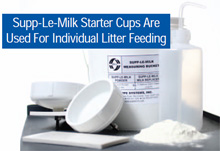 In just two weeks, you can see the results of effectively using Supp-Le-Milk to help your sows provide for your large litters to save you time and money. To help you witness these benefits for yourself, Soppe Systems offers the Supp-Le-Milk Starter Kits.
Each Starter Kit includes 4 Starter Cups along with a Drench Bottle and instructions to help you learn and benefit from this new "system of management" for milk replacer.
Would you like to try it? Contact us to order yours today!